Auburn Roofing Contractor & Gutter Company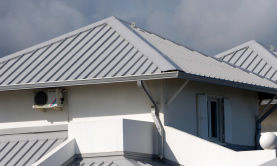 Founded in 1983, Star Roofing and Construction provides the highest level of roofing service quality for the Auburn, WA area. We are very proud of our record of excellence when it comes to roofing maintenance, installation, and repairs. You can trust our certified roofing contractors to advise you on the best options when it comes to roofing materials, styles, and more. We offer warranties for all of the professional roofing services we provide in Auburn, WA.
Auburn Roof Replacement
Does it seem like your Auburn roof leaks after every thunderstorm? It could be time to consider hiring a professional roofing company to replace your old and worn out roof. If your roof has multiple leaks or other damage, it leaves your home susceptible to mold, as well as structural damage. Let us help you determine whether a complete roof replacement is right for your Auburn home. When you invest in a replacement, you may even benefit from reduced heating and cooling costs.
Auburn Roof Repairs
If the roof over your Auburn home is in urgent need of repair, don't wait to have it repaired! Give the expert roof repair specialists at Star Roofing and Construction a call today for a roof repair service estimate and inspection. We'll replace broken or missing shingles, repair leaky joints, and repair any other storm damage to your roof.
Auburn Gutters
Ensuring that your Auburn home's gutter system is properly maintained is vital to limiting the damaged caused by standing water. When your gutters are kept clear, rain water is able to flow freely away from your property. Our gutter specialists will thoroughly inspect your current gutter system, and can help you choose the best gutter and gutter guard system for your needs and budget. Gutter guards come in a variety of weatherproof colors and styles, providing superior protection without affecting the look of your home.
Zip Codes We Provide Roofing in Auburn:
98001, 98002, 98003, 98023, 98047, 98092
What Clients Say About Our Auburn Roofing Services:
Star Roofing and Construction, Inc. is Rated: 5 / 5
based on these 2 happy customer reviews.
---
"We used Star Roofing & Construction to install 2 roofs for me. They were fantastic. They were so clean, they picked up everything every day. The place is spotless. All their tools were gone, all the tarps were gone. The next day, they would lay it all out again and do it again. Everything is excellent. Their price is right in the ballpark."
---
"We contacted Star Roofing, they visited our home initially to meet us, then later came back with their bid and explained all costs and guarantees. After deciding to go with Star Roofing, they started the project within a weeks time, and finished one day sooner than expected. The roofers, arrived on time and worked long steady days. Each day the roofers cleaned up before they left. The roof was inspected during the roofing and after it's completion. We are very pleased with Star Roofing, their cost and professionalism."
---
---
Recent Posts about Auburn Roofing:
Choosing a Roof Type for Your Seattle Home

While most people know only roofing panels made of metal, in reality, there are many metal kinds of roofing products being produced. They are in demand these days for their affordability and industrial usefulness. Several types of these metal roofing products have been used years ago but are now in style again. Here are some...

Read More
Is Your Old Seattle Roof Costing You Money?

Are you losing money through your walls? How about under the door or through your electrical outlets? The costs of natural gas, heating oil, and electricity have skyrocketed in recent years. A poorly insulated and sealed home could literally be costing you a fortune. The 'thermal envelope' around your home keeps the air you heat...

Read More
---
If you're looking for a professional Auburn roofing contractor, please call 425-290-7827, or complete our online request form.