Kirkland Roofing Contractor & Gutter Company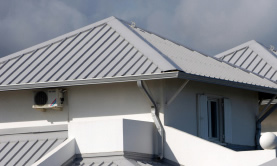 Founded in 1983, Star Roofing and Construction provides the highest level of roofing service quality for the Kirkland, WA area. We are very proud of our record of excellence when it comes to roofing maintenance, installation, and repairs. You can trust our certified roofing contractors to advise you on the best options when it comes to roofing materials, styles, and more. We offer warranties for all of our roofing services.

Kirkland Roof Replacement
Does your Kirkland home's roof experience leaking after a bad storm? It may be time to consider hiring a professional roofing company to replace your old and worn out roof. If your roof has multiple leaks or other damage, it leaves your home susceptible to mold, as well as structural damage. Let us help you determine whether a complete roof replacement is right for your Kirkland home. By investing in a new roof, you may even benefit from reduced heating and cooling costs.
Kirkland Roof Repairs
If the roof over your Kirkland home is in urgent need of repair, don't delay! Give the expert roof repair specialists at Star Roofing and Construction a call today for a roof repair service estimate and inspection. We can replace broken or missing shingles, repair leaky joints, and repair any other storm damage to your roof.
Kirkland Gutters
Making sure that your Kirkland home's gutter system is properly maintained is vital to limiting the damaged caused by standing water. When your gutters are kept clear, rain water is able to flow freely away from your property. Our gutter specialists will thoroughly inspect your current gutter system, and can help you choose the best gutter and gutter guard system for your needs and budget. Gutter guards come in a variety of weatherproof colors and styles, providing superior protection without affecting the look of your home.
Zip Codes We Provide Roofing in Kirkland:
98033, 98034
---
---
Recent Posts about Kirkland Roofing:
Does Your Seattle Home Have a Leaky Roof?

Finding out where a leak is on your roof isn't always as easy as it would appear to be. When trying to locate the source of a leaky roof, use the following guidelines to assist you. NOTE:whenever you see the words "the leak area," it refers to an area within a 10 foot (3 meter)...

Read More
Fix Your Roof Before Selling Your Seattle Home

When it comes time to sell your Seattle home, for whatever reason, there are a number of decisions that must take place before putting it on the market. One common project is to update and renovate certain parts of the home to make it more attractive to a potential buyer. One area that may get...

Read More
---
If you're looking for a professional Kirkland roofing contractor, please call 425-290-7827, or complete our online request form.