Kirkland Roofing Contractor & Gutter Company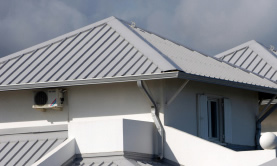 Founded in 1983, Star Roofing and Construction provides the highest level of roofing service quality for the Kirkland, WA area. We are very proud of our record of excellence when it comes to roofing maintenance, installation, and repairs. You can trust our certified roofing contractors to advise you on the best options when it comes to roofing materials, styles, and more. We offer warranties for all of our roofing services.

Kirkland Roof Replacement
Does your Kirkland home's roof experience leaking after a bad storm? It may be time to consider hiring a professional roofing company to replace your old and worn out roof. If your roof has multiple leaks or other damage, it leaves your home susceptible to mold, as well as structural damage. Let us help you determine whether a complete roof replacement is right for your Kirkland home. By investing in a new roof, you may even benefit from reduced heating and cooling costs.
Kirkland Roof Repairs
If the roof over your Kirkland home is in urgent need of repair, don't delay! Give the expert roof repair specialists at Star Roofing and Construction a call today for a roof repair service estimate and inspection. We can replace broken or missing shingles, repair leaky joints, and repair any other storm damage to your roof.
Kirkland Gutters
Making sure that your Kirkland home's gutter system is properly maintained is vital to limiting the damaged caused by standing water. When your gutters are kept clear, rain water is able to flow freely away from your property. Our gutter specialists will thoroughly inspect your current gutter system, and can help you choose the best gutter and gutter guard system for your needs and budget. Gutter guards come in a variety of weatherproof colors and styles, providing superior protection without affecting the look of your home.
Zip Codes We Provide Roofing in Kirkland:
98033, 98034
---
---
Recent Posts about Kirkland Roofing:
The Best Roof for Your Seattle Home is the Most Affordable

The ultimate question for roofing in Northwest Washington is: "What is the best roof?" The accountants will tell you that the answer is simple: It is the roof that costs the least over its life. It really does not matter what material is used or how the roof is attached; the answer is the same....

Read More
---
If you're looking for a professional Kirkland roofing contractor, please call 425-290-7827, or complete our online request form.