Professional Arlington Gutter & Roofing Contractor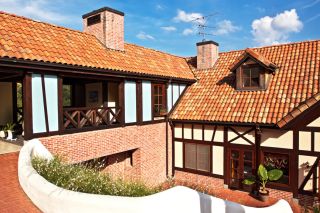 When you work with the professional Seattle roofing contractors here at Star Roofing and Construction, you can be sure that your home's new roof is being installed up to the highest standard of quality. Our team of highly qualified, and professionally licensed Arlington roofing contractors are highly trained and extensively experienced in the field, and make use of only the highest quality materials from some of the most trusted manufacturers in the country. We abide by all of the manufacturer specifications of all of the materials that we make use of to ensure that your home's new roof installation process is done up to the highest standard of quality, and so that none of your building material's warranties are unintentionally voided during the installation process. This attention to detail is something that many other roofing contractors overlook during their services, making us here at Star Roofing and Construction one of a kind in terms of our Arlington roofing service.
Give us a call today if you have any questions about our full line of professional roofing services, or our full line of gutter services. Our team of professionals are always standing by and ready to do whatever they can to ensure that you get the service you need for your home. Give us a call today and let our team of experts answer all of your service questions, or just to schedule a time for your service appointment.
Arlington Roofing Replacement
Your home's roof provides the first line of protection against the weather and elements for the rest of your home, and when it suffers damage of any kind, the results can be catastrophic for the other areas of your home. A leaky roof that goes unnoticed for any length of time can damage the ceilings, walls, and even your furnishings and belongings throughout your home. Sometimes, a leak can even cause considerable damage to your home's structure by the time the leak is even noticed. In any of these cases where your roof has suffered severe damage, it might be time to start looking into having your roof replaced by a professional like the ones at Star Roofing and Construction. Our team of roofing professionals will stand by your side and walk you through the entire process of having your new roof installed. We will help you understand all of the options that are available to you before any work ever beings, so you can feel confident in the services you are getting. From roofing styles, to building materials, and even cost comparisons, our team of experts will give you everything you need to make the absolute best decision in regards to your home's new roof.
Arlington Roofing Repairs
Sometimes when your Arlington home's roof suffers damage, it might not be severe enough to warrant a full replacement, and when this happens, our team of experts here at Star Roofing and Construction will be there to help you resolve the issue painlessly and effectively. Our team of fully certified and experienced roofing contractors can get you the repairs you need in a timely fashion. Our professional roofing contractor will perform a roofing inspection before any work begins to find any hidden areas of damage and their causes so that all of your issues can be taken care of all at once. We can help you with shingle repair and replacement, structural repairs, and much more, so give us a call today.
If you are looking for a professional roofing contractor in Arlington or the surrounding area, give us a call today at 425-290-7827 or fill out our online request form.