Mount Vernon Roofing Contractor & Gutter Company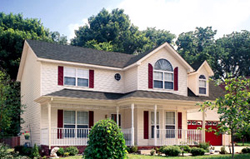 The professional roofers at Star Roofing and Construction have been providing the Mount Vernon area with quality workmanship on each and every roofing job since our business was founded in 1983. In addition to our years of roofing experienced, we proudly stand by every job with an up to a 20-year warranty on workmanship and materials. As a licensed and bonded roofing contractor, our business was founded on the highest standards of professional service.
Mount Vernon Roof Replacement
A leaky roof that goes unnoticed for several months can damage the interior structure of your Mount Vernon home, including the ceilings, walls, and all of your personal belongings. Sometimes a leak can cause considerable damage to your home's structure by the time the leak itself is visible. When this happens, it may be time for a complete roof replacement service. Our experienced roofing contractors will walk you through the entire roof installation process from start to finish. We'll help you understand your options when it comes to roofing styles, materials, and cost comparisons, and help you create a roof design that's well within your budget.
Mount Vernon Roof Repairs
If your Mount Vernon roof is leaking, don't wait to call the professional roof repair contractors at Star Roofing and Construction. We can assist you by conducting a comprehensive roofing inspection and service estimate detailing our roof repair recommendations. From shingle replacement to joint repairs, let us be your go-to roof repair company in Mount Vernon, WA.
Mount Vernon Gutters
Let us help you with your leaky roof repair needs! If you're tired of getting drenched with standing rainwater every time you walk through your Mount Vernon home's threshold, it may be time to consider replacing your worn out gutters and gutter guards. Your home's gutters require regular maintenance to ensure that they are working properly. Ideally, they should shuttle water out and away from your property, minimizing the risk of structural damage to your home and property. Our Mount Vernon gutter services include a thorough inspection so that our professional gutter installers can advise you on the best gutter solution for your home.
Zip Codes We Provide Roofing in Mount Vernon:
98273, 98274
---
---
Recent Posts about Mount Vernon Roofing:
Is It Time to Replace Your Seattle Roof?

As any Seattle homeowner knows, the roof of their home is far from permanent. Although it's generally made of the toughest economical materials available, in most house designs the roof is the part of the house that absorbs the most punishment. It sits there, day after day, quietly taking a beating from the sun, wind,...

Read More
Tips for Protecting Your Seattle Gutters

When it comes to taking off dirt in the gutters or unclogging it, many people do not get too excited about it, and we completely understand. The job can be tiring and may also pose some risks. While this may be the case, there is no excuse not to clean the gutters regularly. Seattle gutter...

Read More
---
If you're looking for a professional Mount Vernon roofing contractor, please call 425-290-7827, or complete our online request form.