Redmond Roofing Contractor & Gutter Company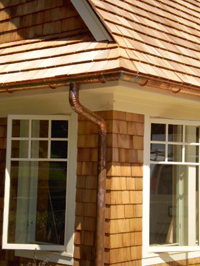 The roof on your Redmond home is one of the most important aspects of keeping your home properly weatherproofed. If your roof was improperly installed or is developing leaks, it may be time to contact a professional roofing contractor to provide you with a roof replacement estimate. At Star Roofing and Construction, we provide a high level of expertise on all of our roofing installation and repair jobs, so that we can ensure the highest level of quality.

Redmond Roof Replacement
When it's time to replace the roof of your Redmond home, you can count on the experienced roofing professionals at Star Roofing and Construction to do the job right. We provide commercial and residential roof replacement services. Let us help you find the right building materials and roof style for your home's needs and budget.
Redmond Roof Repairs
If you've got a leak in your Redmond roof, don't hesitate to call the Star Roofing and Construction today for professional roof repair services today! We'll provide a comprehensive roofing inspection and service estimate detailing our roof repair recommendations. From shingle replacement to joint repairs, let us be your go-to roof repaircompany in Redmond, WA.
Redmond Gutters
Is your Redmond home equipped with properly functioning gutters and gutter guards? If not, you might be putting your home at risk of significant structural damage. A gutter systems faciliates the flow of rainwater that collects on your roof. Rather than flooding your garden, property and foundation, the water is instead directed out and away from your home. With our Redmond gutter guard services, we'll conduct a thorough inspection of your existing gutter system. We can repair sections of gutter, install gutter guards, and provide you with recurring gutter system maintenance.
Zip Codes We Provide Roofing in Redmond:
98033, 98052, 98053, 98074
---
---
Recent Posts about Redmond Roofing:
Does Your Seattle Home Have a Leaky Roof?

Finding out where a leak is on your roof isn't always as easy as it would appear to be. When trying to locate the source of a leaky roof, use the following guidelines to assist you. NOTE:whenever you see the words "the leak area," it refers to an area within a 10 foot (3 meter)...

Read More
The Best Roof for Your Seattle Home is the Most Affordable

The ultimate question for roofing in Northwest Washington is: "What is the best roof?" The accountants will tell you that the answer is simple: It is the roof that costs the least over its life. It really does not matter what material is used or how the roof is attached; the answer is the same....

Read More
---
If you're looking for a professional Redmond roofing contractor, please call 425-290-7827, or complete our online request form.