Redmond Roofing Contractor & Gutter Company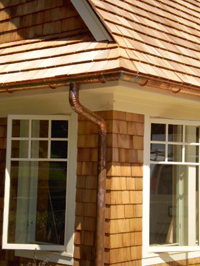 The roof on your Redmond home is one of the most important aspects of keeping your home properly weatherproofed. If your roof was improperly installed or is developing leaks, it may be time to contact a professional roofing contractor to provide you with a roof replacement estimate. At Star Roofing and Construction, we provide a high level of expertise on all of our roofing installation and repair jobs, so that we can ensure the highest level of quality.

Redmond Roof Replacement
When it's time to replace the roof of your Redmond home, you can count on the experienced roofing professionals at Star Roofing and Construction to do the job right. We provide commercial and residential roof replacement services. Let us help you find the right building materials and roof style for your home's needs and budget.
Redmond Roof Repairs
If you've got a leak in your Redmond roof, don't hesitate to call the Star Roofing and Construction today for professional roof repair services today! We'll provide a comprehensive roofing inspection and service estimate detailing our roof repair recommendations. From shingle replacement to joint repairs, let us be your go-to roof repaircompany in Redmond, WA.
Redmond Gutters
Is your Redmond home equipped with properly functioning gutters and gutter guards? If not, you might be putting your home at risk of significant structural damage. A gutter systems faciliates the flow of rainwater that collects on your roof. Rather than flooding your garden, property and foundation, the water is instead directed out and away from your home. With our Redmond gutter guard services, we'll conduct a thorough inspection of your existing gutter system. We can repair sections of gutter, install gutter guards, and provide you with recurring gutter system maintenance.
Zip Codes We Provide Roofing in Redmond:
98033, 98052, 98053, 98074
---
---
Recent Posts about Redmond Roofing:
Is It Time to Replace Your Seattle Roof?

As any Seattle homeowner knows, the roof of their home is far from permanent. Although it's generally made of the toughest economical materials available, in most house designs the roof is the part of the house that absorbs the most punishment. It sits there, day after day, quietly taking a beating from the sun, wind,...

Read More
FAQ - Frequently Asked Seattle Roofing Questions

Roofs are a big concern for homeowners. It is one of the most important parts of your home providing you with shelter from the rain and to regulate the temperature of your home. Read this article and learn the answers to some of the most common roof questions. How often should I have my gutters cleaned?...

Read More
---
If you're looking for a professional Redmond roofing contractor, please call 425-290-7827, or complete our online request form.