Redmond Roofing Contractor & Gutter Company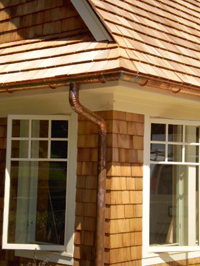 The roof on your Redmond home is one of the most important aspects of keeping your home properly weatherproofed. If your roof was improperly installed or is developing leaks, it may be time to contact a professional roofing contractor to provide you with a roof replacement estimate. At Star Roofing and Construction, we provide a high level of expertise on all of our roofing installation and repair jobs, so that we can ensure the highest level of quality.
Redmond Roof Replacement
When it's time to replace the roof of your Redmond home, you can count on the experienced roofing professionals at Star Roofing and Construction to do the job right. We provide commercial and residential roof replacement services. Let us help you find the right building materials and roof style for your home's needs and budget.
Redmond Roof Repairs
If you've got a leak in your Redmond roof, don't hesitate to call the Star Roofing and Construction today for professional roof repair services today! We'll provide a comprehensive roofing inspection and service estimate detailing our roof repair recommendations. From shingle replacement to joint repairs, let us be your go-to roof repaircompany in Redmond, WA.
Redmond Gutters
Is your Redmond home equipped with properly functioning gutters and gutter guards? If not, you might be putting your home at risk of significant structural damage. A gutter systems faciliates the flow of rainwater that collects on your roof. Rather than flooding your garden, property and foundation, the water is instead directed out and away from your home. With our Redmond gutter guard services, we'll conduct a thorough inspection of your existing gutter system. We can repair sections of gutter, install gutter guards, and provide you with recurring gutter system maintenance.
Zip Codes We Provide Roofing in Redmond:
98033, 98052, 98053, 98074
What Clients Say About Our Redmond Roofing Services:
Star Roofing and Construction, Inc. is Rated: 5 / 5
based on these 2 happy customer reviews.
---
"We needed a new roof on our barn/shed and didn't want to put too much money into it. Star Roofing gave us a very fair bid and promptly went to work. They didn't try and push a lot of extras and accessories as they were aware we were on a tight budget. They did a great job and we are extremely happy with the new roof. A+++++ service. Will use Star Roofing when our home needs a new roof."
---
"The was a gutter loose on my husband's shop. The gutter had been loosened during the 2008-2009 snow storms. One day recently the pins/stakes/what ever they are called that hold the gutters on had several come out. This made all the rain water run to the center of the gutter and then made horrible collection of water on the ground. The collection of rain/water was almost to the level of going over the slab of the shop and into the shop. Dave came out and was very gracious. Dave hammered the pins in and cleaned out my maple leaves and the end results were wonderful. Dave made sure that I was satisfied with his work along with the fact that the job was done to his high standards. Thank you so very much. I recommend having this company out anytime. Everything think went wonderful. I will not hesitate at all to have this company back out. Service and courtesy is A+!"
---
---
Recent Posts about Redmond Roofing:
The Most Common Problems Homeowners Encounters With Their Roofs

Keeping your roofing in great condition is a very important part of keeping your home in great shape. Your roofing provides many different parts of your home with crucial protection from weather and the elements, so when there are any problems with your roofing, it's very important that you have them repaired as soon as...

Read More
FAQ - Frequently Asked Seattle Roofing Questions

Roofs are a big concern for homeowners. It is one of the most important parts of your home providing you with shelter from the rain and to regulate the temperature of your home. Read this article and learn the answers to some of the most common roof questions. How often should I have my gutters cleaned?...

Read More
---
If you're looking for a professional Redmond roofing contractor, please call 425-290-7827, or complete our online request form.