Sammamish Roofing Contractor & Gutter Company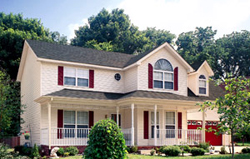 Since 1983, the professional roofers at Star Roofing and Construction have been providing the Sammamish area with quality workmanship on each and every roofing job. In addition to our years of roofing experienced, we back every job with up to a 20-year warranty on workmanship and materials. As a licensed and bonded roofing contractor, our business was founded on the highest standards of professional service and we haven't looked back.
Sammamish Roof Replacement
A unnoticed leaking roof can damage the ceilings, walls, and all of your personal belongings in your Sammamish area home. Sometimes a leak can cause considerable damage to your home's structure by the time the leak itself is noticeable. This scenario typically occurs when regular roofing maintenance is not performed. In these cases, it may be time for a complete roof replacement service. Our expert roofing professionals will walk you through the entire roof installation process. We'll help you understand your options when it comes to roofing styles, materials, and cost comparisons.
Sammamish Roof Repairs
If you've got a leak in your Sammamish roof, don't hesitate to call the professional roof repair contractors at Star Roofing and Construction for a roofing inspection. We'll provide a comprehensive roofing inspection and service estimate detailing our roof repair recommendations. From shingle replacement to joint repairs, let us be your go-to roof repaircompany in Sammamish, WA.
Sammamish Gutters
If you're tired of getting drenched with standing rainwater every time you walk through your Sammamish home's threshold, it may be time to consider replacing your worn out gutters and gutter guards. Your home's gutters require regular maintenance to ensure that they are working properly. Ideally, they should shuttle water out and away from your property, minimizing the risk of structural damage to your home and property. Our Sammamish gutter services include a thorough inspection so that our professional gutter installers can advise you on the best gutter solution for your home.
Zip Codes We Provide Roofing in Sammamish:
98074, 98075
---
---
Recent Posts about Sammamish Roofing:
Fix Your Roof Before Selling Your Seattle Home

When it comes time to sell your Seattle home, for whatever reason, there are a number of decisions that must take place before putting it on the market. One common project is to update and renovate certain parts of the home to make it more attractive to a potential buyer. One area that may get...

Read More
Choosing a Roof Type for Your Seattle Home

While most people know only roofing panels made of metal, in reality, there are many metal kinds of roofing products being produced. They are in demand these days for their affordability and industrial usefulness. Several types of these metal roofing products have been used years ago but are now in style again. Here are some...

Read More
---
If you're looking for a professional Sammamish roofing contractor, please call 425-290-7827, or complete our online request form.