Sammamish Roofing Contractor & Gutter Company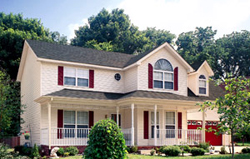 Since 1983, the professional roofers at Star Roofing and Construction have been providing the Sammamish area with quality workmanship on each and every roofing job. In addition to our years of roofing experienced, we back every job with up to a 20-year warranty on workmanship and materials. As a licensed and bonded roofing contractor, our business was founded on the highest standards of professional service and we haven't looked back.
Sammamish Roof Replacement
A unnoticed leaking roof can damage the ceilings, walls, and all of your personal belongings in your Sammamish area home. Sometimes a leak can cause considerable damage to your home's structure by the time the leak itself is noticeable. This scenario typically occurs when regular roofing maintenance is not performed. In these cases, it may be time for a complete roof replacement service. Our expert roofing professionals will walk you through the entire roof installation process. We'll help you understand your options when it comes to roofing styles, materials, and cost comparisons.
Sammamish Roof Repairs
If you've got a leak in your Sammamish roof, don't hesitate to call the professional roof repair contractors at Star Roofing and Construction for a roofing inspection. We'll provide a comprehensive roofing inspection and service estimate detailing our roof repair recommendations. From shingle replacement to joint repairs, let us be your go-to roof repaircompany in Sammamish, WA.
Sammamish Gutters
If you're tired of getting drenched with standing rainwater every time you walk through your Sammamish home's threshold, it may be time to consider replacing your worn out gutters and gutter guards. Your home's gutters require regular maintenance to ensure that they are working properly. Ideally, they should shuttle water out and away from your property, minimizing the risk of structural damage to your home and property. Our Sammamish gutter services include a thorough inspection so that our professional gutter installers can advise you on the best gutter solution for your home.
Zip Codes We Provide Roofing in Sammamish:
98074, 98075
What Clients Say About Our Sammamish Roofing Services:
Star Roofing and Construction, Inc. is Rated: 5 / 5
based on these 2 happy customer reviews.
---
"My electricians noticed a leak in the roof that was damaging the drywall. Dave from Star Roofing patched that hole, found another hole and patched that as well. It went well. They came out really fast, found the problem and got the job done. Dave was really friendly and great to work with."
---
"One of the skylights In our master bathroom and also the air fan vent in our laundry room were leaking. Star Roofing gave us a very fair estimate to replace the plastic air vent housing with a metal housing, replace flashing around the new housing and roofing material as needed. On the skylight the estimate included replace flashing, felt inside skylight, lay down plastic moisture barrier and replace roofing material and seal as needed. Randy, the repair technician, did a very throughal repair and went over and above on the repair on the laundry room air vent. The original flexible tubing to the vent housing was too short and was disconnected from the old plastic vent housing. Randy modified some flashing metal material to make a metal tube in order to connect the flex hose to the new metal air vent housing and then securely fastened them together. I watched Randy during some of the repair work and he was very consciensious in doing a good, quality job. Both Randy and Dave, the estimator, were very informative and helpful. Would definitally recommend Starr Roofing for roof repair and ask for Randy Walden. I was given one estimate from another company that took an easy shortcut method to maybe repair the skylight at almost the same price. Couple of Roofing Repair companies would only give a minimum charge to repair the leak so you really did not know the final cost and the method of repair. Star Roofing performed the repair to skylight and air fan vent as communicated. Very complete and so far it has fixed the problem."
---
---
Recent Posts about Sammamish Roofing:
The Best Roof for Your Seattle Home is the Most Affordable

The ultimate question for roofing in Northwest Washington is: "What is the best roof?" The accountants will tell you that the answer is simple: It is the roof that costs the least over its life. It really does not matter what material is used or how the roof is attached; the answer is the same....

Read More
Does Your Seattle Home Have a Leaky Roof?

Finding out where a leak is on your roof isn't always as easy as it would appear to be. When trying to locate the source of a leaky roof, use the following guidelines to assist you. NOTE:whenever you see the words "the leak area," it refers to an area within a 10 foot (3 meter)...

Read More
---
If you're looking for a professional Sammamish roofing contractor, please call 425-290-7827, or complete our online request form.