Seattle Commercial Roofing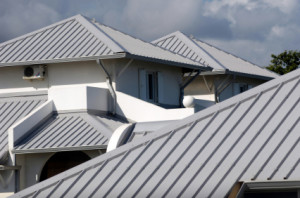 At Star Roofing and Construction, we take great pride in our reputation as Seattle's best commercial roofing contractor. By offering ongoing support, our clients know that their roofing needs are always our first priority.
When you're a business owner, it's important to keep your Seattle storefront well-maintained and properly functioning. It's difficult to run a business while you're worried about a leaky or damaged roof. That's why our certified roofing contractors provide professional and reliable roofing services that you can count on.
We understand what it takes to make each commercial roofing job as seamless as possible. Working closely with building owners and managers has proven to be a key factor for completing work smoothly, which limits the amount of disruption caused to your business and operating hours.
Commercial Roof Replacement and Repairs
If you're a Seattle business or commercial property owner, you can't let a damaged or leaking roof slow you down. It doesn't matter whether you own office space or a small, retail storefront; those repairs need to be fixed quickly. A poorly maintained roof can have a serious impact on your local Seattle business. Keep your customers happy and your energy bills low by ensuring that your commercial property roof is regularly inspected and maintained. We provide commercial roof replacement for all types of commercial properties, as well as energy-efficient roofing upgrades.
Our Commercial Roofing Services Include:
Roof inspections
Roof maintenance
Commercial roof replacement
Emergency roof repairs
Gutter guard replacement
Gutter maintenance
---
---
What Customers are Saying about Our Commercial Roofing Services:
---
Star replaced our 25 y.o. cedar shake roof with a lifetime warranty, dual-layer, high quality, architectural design composition shingle roof system. It was a pleasurable experience from start to finish and follow-up. The Star staff were courteous, professional, detail-oriented, and, most importantl [...]

---



They were fabulous. They quoted us an appropriate amount. They did really good work. They worked with our contractors on the back end for them to finish up stuff. Then the roofing guys came back out and did the flash and did all the fancy business to finish things up. They were really good. We w [...]

---



Work consisted of locating and fixing a leak on the leading edge of the roof and repairing a gutter First time user of Angies list and will always come here first. From the first contact with Star Roofing their professionalism was evident. Hard to find anybody that will even look at a tile roof.. [...]

---



We were very pleased with their work. The roofing workers were very efficient and here on time. They did their work diligently and cleaned up nice. They took extra time to make sure they did everything right.

---



They were very professional. Did entire job in one day. They worked very hard and cleaned up very well. I was impressed by the professionalism during entire process from estimate to completion.

---



We needed a new roof on our barn/shed and didn't want to put too much money into it. Star Roofing gave us a very fair bid and promptly went to work. They didn't try and push a lot of extras and accessories as they were aware we were on a tight budget. They did a great job and we are extremely happy [...]

---



We contacted Star Roofing, they visited our home initially to meet us, then later came back with their bid and explained all costs and guarantees. After deciding to go with Star Roofing, they started the project within a weeks time, and finished one day sooner than expected. The roofers, arrived o [...]

---



One of the skylights In our master bathroom and also the air fan vent in our laundry room were leaking. Star Roofing gave us a very fair estimate to replace the plastic air vent housing with a metal housing, replace flashing around the new housing and roofing material as needed. On the skylight the [...]

---



Star Roofing and Construction, Inc. in Snohomish, WA put a new roof on our Edmonds home. We sincerely believe that Star Roofing should be the first call made when needing a new roof. Several things about this company impressed us — from the first call we placed to inquire about their services to [...]

---



Star Roofing & Construction replaced our old cedar roof with Certainteed Presidential Tri-Laminate roofing shingles. We got 4 estimates and Star Roofing was in the middle of the lowest and highest bidder. The lowest bidder was know for taking a very long time to complete work, so we decided to [...]

---



Labor to install skylight. Final cost was substantially less than other estimates for same work by other providers. Installer was on time and accomplished the work in the time provided by the estimate.

---



I used Star Roofing & Construction Inc. for roofing. They were great. They communicated pretty well and did an excellent job. They cleaned up really well and the roof looks great. The price they quoted was what it was.

---



Replaced entire roof. The owner was great my husband and I were so happy with the results. They were on time were very clean. After that expereince I recommend Angie's list to everyone for helping me find Star Roofing & Construction.

---



Installed TPO flat roof over 15 year torch-down roof on detached garage. The estimator and labor crew were very knowledgeable and explained available options and materials. The job was estimated and done within a week. Had trouble finding a contractor willing to work a small job.

---



Replaced my old gutters with new gutters and down spouts. It was great. Good communication, the workers showed up on time, got the job done quickly and left the yard the way it was before they showed up.

---



The was a gutter loose on my husband's shop. The gutter had been loosened during the 2008-2009 snow storms. One day recently the pins/stakes/what ever they are called that hold the gutters on had several come out. This made all the rain water run to the center of the gutter and then made horribl [...]

---



We used Star Roofing & Construction to install 2 roofs for me. They were fantastic. They were so clean, they picked up everything every day. The place is spotless. All their tools were gone, all the tarps were gone. The next day, they would lay it all out again and do it again. Everything is excellent. Their price is right in the ballpark.

---



My electricians noticed a leak in the roof that was damaging the drywall. Dave from Star Roofing patched that hole, found another hole and patched that as well. It went well. They came out really fast, found the problem and got the job done. Dave was really friendly and great to work with.

---



I did not live here when the roof was replaced 15 years ago but I have been told by neighbors that the place was a real mess. Believe me, they really noticed the difference and are grateful. We have al noticed how diligently you all work---no wasting time, no "goofing off"! I personally want to thank you for your good work and your neatness.

---



We sincerely believe that Star Roofing should be the first call made when needing a new roof. Several things about this company impressed us, from the first call we placed to inquire about their services, to the final inspection. They didn't try to sell us add-ons that we didn't need and would h [...]

---



Recent Posts about Commercial Roofing:
Getting Ready for Your Seattle Roof Installation

Repairing or replacing your old roof is a necessity when you are experiencing leaks, but there are also other situations where you will need to seek professionals for roof installation. Seattle roofing contractors can assist you with all your roofing needs. Choosing a Contractor The most important aspect of choosing a roofing contractor is to...

Read More
Choosing a Roof Type for Your Seattle Home

While most people know only roofing panels made of metal, in reality, there are many metal kinds of roofing products being produced. They are in demand these days for their affordability and industrial usefulness. Several types of these metal roofing products have been used years ago but are now in style again. Here are some...

Read More
---
If you're looking for Seattle commercial roofing services please call 425-290-7827, or complete our online request form.