Seattle Roofing Contractor & Gutter Company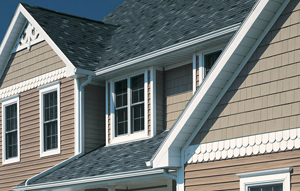 When you work with the professional roofing contractors at Star Roofing and Construction, you can be sure that your roof is being installed in accordance with all manufacturer standards. Our certified roofers are manufacturer trained on all building materials that we use. Abiding by all manufacturer specifications ensures that your roof installation process doesn't unintentionally void any building material warranties. something that can be overlooked by other roofing companies.
Seattle Roof Replacement
A leaky roof that goes unnoticed can damage the ceilings, walls, and all of your personal belongings in your Seattle area home. Sometimes a leak can cause considerable damage to your home's structure by the time the leak itself is noticeable. In these cases, it may be time for a complete roof replacement service. Our expert roofing professionals will walk you through the entire roof installation process. We'll help you understand your options when it comes to roofing styles, materials, and cost comparisons.
Seattle Roof Repairs
If you're looking to get to get the most use out of your Seattle roofing system investment, we recommend having your roof regularly inspected for any leaks or other damage. Our certified roofing repair specialists will conduct a thorough roof inspection to determine the source of any leaks you may notice. At Star Roofing and Construction, we provide shingle replacement for all types of roofs, structural repair, and more.
Seattle Gutters
With Star Roofing and Construction, you can trust our certified and experienced roofing contractors to provide you with the right solution for your Seattle gutter's maintenance needs. From gutter repairs to new gutter and gutter guard installation, we'll conduct a thorough exterior inspection of your home's exterior to determine the best gutter repair or replacement solution for your needs and budget. We can help you with new gutter installation, or help you troubleshoot an existing gutter problem.
Zip Codes We Provide Roofing in Seattle:
98101, 98102, 98103, 98104, 98105, 98106, 98107, 98108, 98109, 98110, 98112, 98115, 98116, 98117, 98118, 98119, 98121, 98122, 98125, 98126, 98131, 98132, 98133, 98134
---
What Clients Think about Our Seattle Roofing Services:
---
We contacted Star Roofing, they visited our home initially to meet us, then later came back with their bid and explained all costs and guarantees. After deciding to go with Star Roofing, they started the project within a weeks time, and finished one day sooner than expected. The roofers, arrived o [...]

---



My electricians noticed a leak in the roof that was damaging the drywall. Dave from Star Roofing patched that hole, found another hole and patched that as well. It went well. They came out really fast, found the problem and got the job done. Dave was really friendly and great to work with.

---



Thank you for your efforts in making the University Garden project a success! I think we all found this project to be personally rewarding and the owner is very pleased with the final product. The skill integrity and responsibility of your field and office staff were a strong contribution to the projects success

---



---
---
Recent Posts about Seattle Roofing:
Does Your Seattle Home Have a Leaky Roof?

Finding out where a leak is on your roof isn't always as easy as it would appear to be. When trying to locate the source of a leaky roof, use the following guidelines to assist you. NOTE:whenever you see the words "the leak area," it refers to an area within a 10 foot (3 meter)...

Read More
Is Your Old Seattle Roof Costing You Money?

Are you losing money through your walls? How about under the door or through your electrical outlets? The costs of natural gas, heating oil, and electricity have skyrocketed in recent years. A poorly insulated and sealed home could literally be costing you a fortune. The 'thermal envelope' around your home keeps the air you heat...

Read More
---
If you're looking for a professional Seattle roofing contractor, please call 425-290-7827, or complete our online request form.