Your #1 Roofing Contractor In The Seattle Area!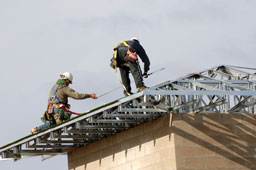 Since 1983, Star Roofing and Construction has been serving the Northwest with quality workmanship on every job! In addition to our years of experience, we back every job with warranty on workmanship and materials. This is made possible by partnering with quality manufacturers and keeping our employee's factory trained and certified on the products we support. Licensed and bonded, our Seattle Roofing Company was founded on the highest standards of professional service.
CertainTeed's Roofer's TrackRecord – View Our Scoring!
See our performance rate for yourself. CertainTeed produces a track record card that allows us to show you just how client-oriented and professional we are. [view record – pdf]
Ranked top 20 in the nation for Sure Start Plus Warranties from Certainteed Corporation.
As roofs are the most important part of your Washington home's weatherproofing plan, a leaking roof can cause significant damage in a relatively short period of time. Unfortunately, once a leak has sprung it's often difficult to get a professional Seattle roofing contractor out to make simple repairs. However, understanding the reasons behind a roofers' reluctance to make repairs can better position you to procure the repair services of a competent Washington roofer.
We will provide both a high level of expertise and an objective viewpoint. Whether it is new construction or re-roofing, our professional roofing contractors can help you select and install the perfect roof for your needs, conditions and budget.
If you are looking for a professional Seattle roofing contractor, then please call 425-290-7827 or complete our online request form.
Recent Articles on Roofing



Merchant Circle | Yelp | Yahoo | Facebook